Case Study: Taishin International Bank
In a downturn market, optimization and branch network planning are critical elements to ensure your business continues to thrive. Taishin was able to take advantage of hard to get market data and put it to good use.
Ever since its establishment, Taishin has constantly expanded its business scope and its operating network, actively taking the role of an intermediary in the supply and demand of funds for society and providing the financial services needed to bring about economic prosperity.

The Bank's main items of business include deposits, loans, bills discounting, remittances, guarantees, short-term bills brokerage, proprietary trading, import/export negotiation, foreign-currency deposits, trust, agency, custodianship, credit cards, cash cards, trading in derivative products, factoring, and offshore banking.
Challenge
Taishin had difficulties objectively reviewing the performance of their various bank branches. Since they only had access to their internal business/performance data, they were unable to determine the driving factors behind why certain branches outperformed others. It became increasingly difficult for Taishin to open new locations without concrete knowledge behind the reasons that made a branch successful.

Although Taishin knew which branches were the top performers, not knowing the reasons why those branches were more successful was a problem that needed solving. Location was the one grey zone that hid many of the variables from the bank.

To add to the challenge, Taishin did not employ a team of siting specialists, so standards and best practices with regards to finding site locations was something of a new challenge for Taishin.
Summary: Taishin International Bank needed to quickly and effectively increase their market share by optimizing bank policy and branch networks.
Solution
Taishin needed to develop a way to standardize their siting practices in an easy way that could be adopted by the bank.

getchee prepared custom datasets that Taishin needed including a base map for Taipei, pertinent points of interest, small-to-medium market potential data, and heat maps for business, lifestyle, accessibility, residential and wealth indication.

These custom datasets were made accessible through getchee Enterprise, getchee's flagship product to view, analyze and compare data in real-time, through a Web browser.

What did Taishin International Bank receive?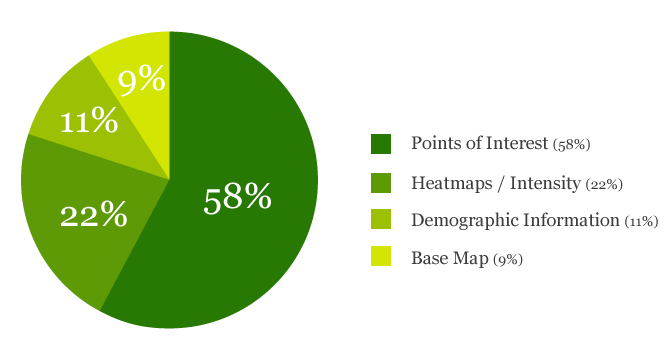 Summary: An advanced web tool allowing Taishin to analyze potential market sizes and site locations by reviewing customized datasets.
Result
Taishin used the data provided in getchee Enterprise to review the performance of its current branches. They were able to adopt the data and new process through using the Web application to understand how to find better branch locations in Taipei. Through the use of the tool, Taishin found a way to gain an edge and better understand how to create a siting process.

"
I believe getchee, as a pioneer of on-demand location intelligence in Asian developing markets, will no doubt rise to be the best provider for retailers here. Their professional staff always goes a step further for us. They are not just partners. They are friends.
"
- Polly Tseng, Branch Management Division, Assistant Manager
Taishin found huge value in being able to generate real-time reports for further analysis and consideration. They found the data and system very useful as an objective source of information to determine optimum locations for Taishin branches.

Subscribe to Our Insight 😉
Stay up to date with the latest white paper, infographic, and our thought.
Stay up to date with the latest white paper, infographic, and our thought.