White Paper
>
Case Study – Uniqlo Expansion Path Review, 2013-2017
Case Study – Uniqlo Expansion Path Review, 2013-2017

The fast fashion industry in China has grown rapidly for last decade, yet now slows pace down. Taking a look at recent trends in the number of Uniqlo stores from 2013 to 2017, we found out that there was an expansion speed peak in 2015. In this research we try to track changes of Uniqlo store growth within recent four years. The figures reported here are based on store counts of every two year.



2013-2015 Rapid Growth

During 2013 to 2015, there were 143 new stores opened in 50 cities and 21 cities maintaining state quo. Of the new openings, 30% stores opened in Beijing, Shanghai and Guangzhou. In addition, most of the new-opening cities were within coastal provinces. In this period, Uniqlo were expanding rapidly and trying to get as much as market share in major cities. For city selection strategy, Uniqlo is focusing mainly on T1 & T2 Cities. At the end of 2015, Uniqlo reached to 397 stores in 71 cities.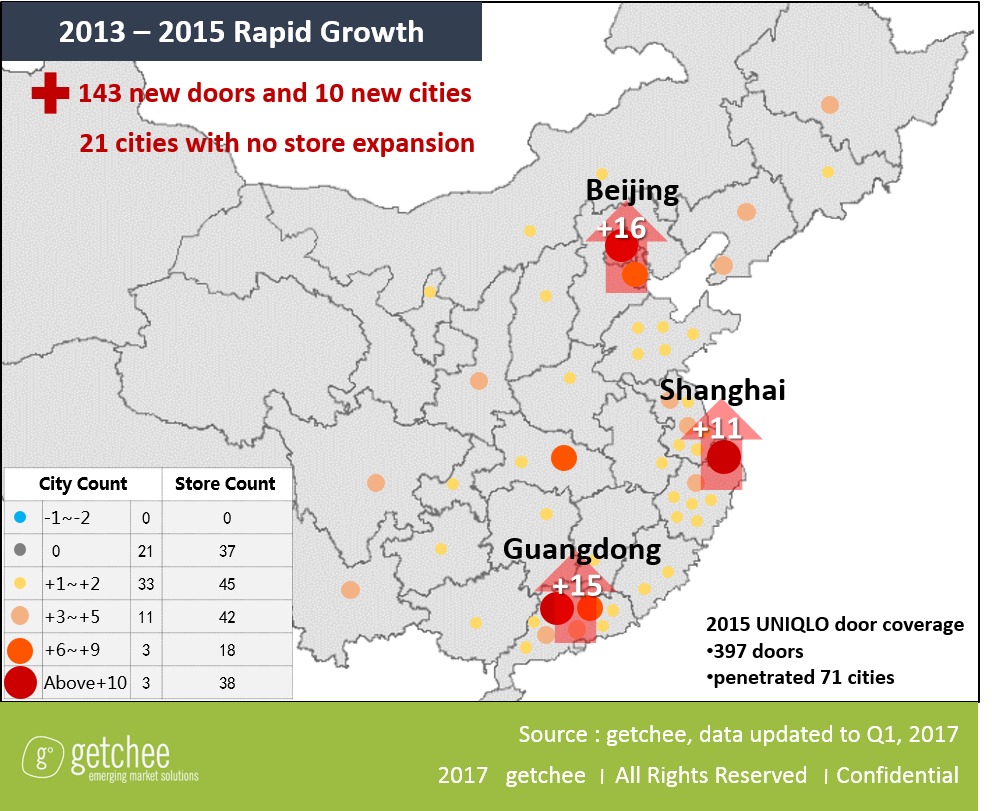 2015-2017 Focused Expansion

During 2015 to 2017, Uniqlo were not only expanding but also reducing under-performing stores. Of 82 cities with 126 new openings, 46 of them are new penetrating cites. The expansion speed is 10% slower comparing to 2013-2015. Retreating from 6 cities and closing 9 stores, Uniqlo extended footprints in new developing T2 & T3 cities which not limited in coastal cities, bust also focused more in inland cities such as Changsha, Changde & Chongqing.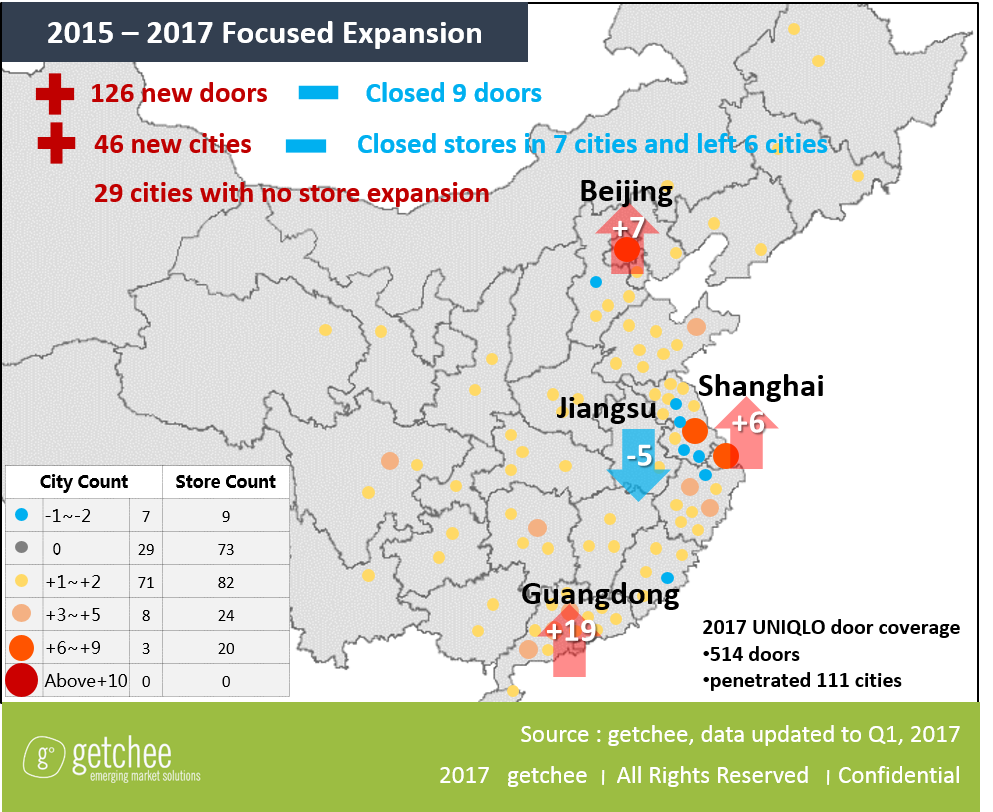 Evolving along with changing markets and consumers

Comparing 2013-2015 against 2015-2017, Uniqlo refines its expansion plan and targets on new developing inland cities after 2015. Major cities like Beijing, Shanghai, Goungzhou still remain major portion in expansion plan. As we can see, Unilqo keeps improving its store selection criteria along with market changes. China will still be most important market for retailers. Yet it is at the turning point of economics upgradation and consumer buying behaviors are transferring from offline to online retailing. Only retailers who leverage market data will grow business better in tomorrow's market.

If you have questions about store network planing, or how getchee can build a data solution for your brand, please
contact us
.
| | |
| --- | --- |
| | By Karl Lai |
Subscribe to Our Insight 😉
Stay up to date with the latest white paper, infographic, and our thought.
Stay up to date with the latest white paper, infographic, and our thought.