Our Thoughts
>
How to start your small franchise business? 5 recommend industry and something you should know.
How to start your small franchise business? 5 recommend industry and something you should know.
There are thousands of options for small business. But which one is popular, and what should I know before starting a retail store?
Being an entrepreneur can not only work from passion but also do anything that you think is good or something that you are interested. However, no matter you want to start your own brand or franchise a small business, you all need to spend a lot of money and time in it. If you want to make a profit in a short time, then you have to choose the right industry. But how to choose? Let's follow this article to find out 5 recommend industries and 3 startup key points.



Top 5 franchising small business
The majority of people will choose franchising brands to start their small business because of its reputation. Here's are top 5 franchising small business in Taiwan:


1. Beverage shop/store
The bubble tea market is valued NTD 100 billion in Taiwan. With lower cost and high profit, more and more people want to start this business. However, starting a bubble tea shop is not easy. First, competitors. There are 22 thousands of bubble tea shops in Taiwan. It's important to analyze how to make a difference between other competitors. Second, franchising price. Franchising a popular brand can help you earn a reputation and have royal consumers in advance. But you have to prepare at least NTD 2 million dollars to invest this brand. Therefore, we suggest you to evaluate the market potential first, and we also provide some popular franchising brands for reference:
| | | | | |
| --- | --- | --- | --- | --- |
| | | | | |
| Store count in Taiwan | 500 ↑ | 900 ↑ | 200 ↑ | 300 ↑ |
| Franchising Price | NTD 2 million | NTD 2.5 million | NTD 3 million | None |
| Condition | Have an intern experience. | Owner age btw 25~35 years old, and can accept 600 hours' education courses. | Must participate education courses. | Having a store manager experience for at least 2 years. |
2. Food truck or Snack bar
Snack bar and food truck are another popular franchising industries. You only need to spend 100 thousand dollars, but this industry is also competitive. It usually shut down in a short time because a lot of different factors. But if you choose a right location before start this business, you will increase more chance in success. We suggest you to spend at least 2 weeks to count the foot traffic for avoiding shut down.
3. Convenience Stores
Convenience store is a very important shop/store for Taiwanese because you can find/do anything in here such as buying coffee or bubble tea, copying a paper, buying a ticket or mask, printing a photo, paying credit card or parking fee, and so on. However, if you think franchise a convenience store can make profit without losing, that's totally wrong. Because you not only need to educate your employees to do hundreds of things at the same time but also need to afford 24 hours opening cost. Here's are top 4 convenience stores' franchising expense:
| | | | | |
| --- | --- | --- | --- | --- |
| | 7-11 | FamilyMart | Hi-Life | OK |
| Franchising price | NTD 300 thousand | NTD 300 thousand | NTD 300~500 thousand | NTD 100~300 thousand |
| Interior expense | NTD 1.8 million | NTD 1.5 million | NTD 0.7~1.5 million | NTD 0.9~1.2 million |
| Contract | 10 yrs | 10 yrs | 7 yrs | 5 yrs |
| Yearly Lowest gross margin guarantee | NTD 2.62 million | NTD 2.62 million | NTD 2.4 million | NTD 2.4 million |
| Profit distribution | 63.5% | 65% | 80% | 72%~80% |
4. Coffee shop
From the static of Taiwan, the coffee shop market is valued NTD 70 billion in Taiwan and, in average, each person drinks 122 cups of coffee per year. Moreover, coffee shops usually have noble and elegant interior design, so the majority of juveniles will be attracted, and they will willing to spend their time and money in coffee shops. However, coffee market is more competitive than before because convenience stores are also step into this coffee war. For survival, some of franchising coffee shops start to sell meals for attractive more customers. If you really want to franchise a coffee shop, you must need to evaluate and analyze the market.
5. Breakfast shop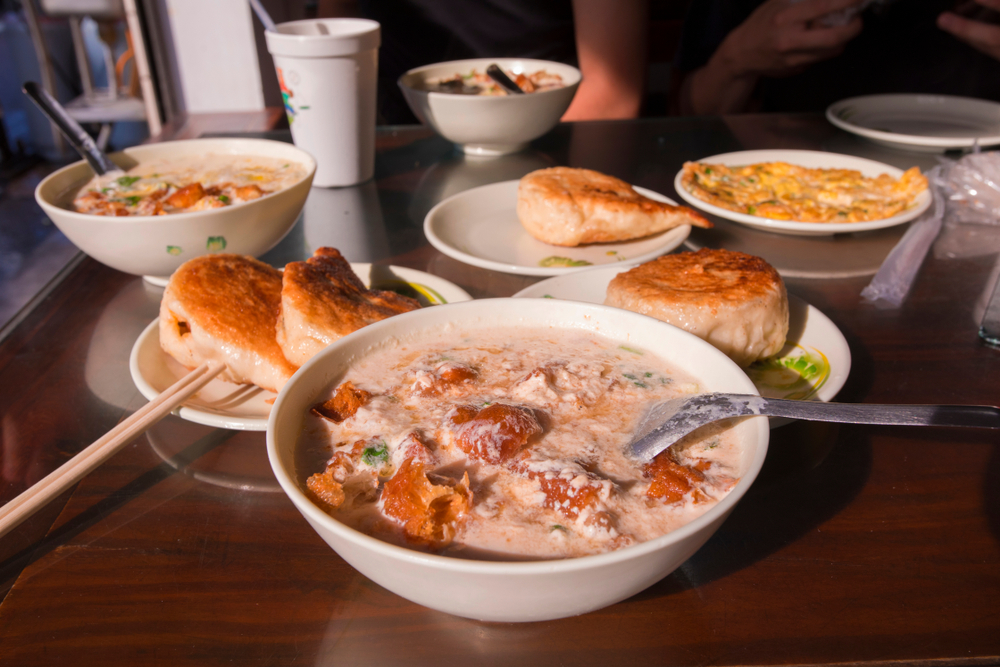 In Taiwan, the majority of us will go to breakfast shop to order some food for our breakfast. Even if a lunch or dinner time, some of us will still choose to go to breakfast shop for ordering some food for our lunch and dinner. Maybe the reason that Taiwanese like breakfast shops is cheap. However, if you want to start your business by a breakfast shop, you need to know that opening a breakfast stores need to wake up very early to prepare some food, speeding is the most important thing than others. At the beginning, you will face more difficult things than other industries. But if you are a person that like to accept challenges. Breakfast shop may be your first choice to franchise. The tops 3 famous franchising breakfast stores in Taiwan are
MyWarmDay
,
LAYA Burger
, and
Hong Ya Burger
.
As an entrepreneur, 3 things that you cannot ignorance.
No matter which industries you decide to choose, you need to spend a lot of effort, time, and money to it, and make every important decision by yourself or with your partner(s). Here're 3 important points that you cannot ignorance.
1. Competition of your product
How to keep product quality? How to fit consumer spending behavior, and how to superior to competitors? All of them are important. If you want to expand your market scale, the first thing you need to do is make a stable profit at fist.


2. Right employees
Only having a great technical is not enough, service quality is another import index for customers. Finding employees whose personality, working passion, and working efficiency are suitable for yourself and brand.
3. Location
Choosing a right location not only can affect your revenue, target audiences, and foot traffic but also can help you plan marketing strategies in advance. Remember! Do not only look at the housing cost. You also need to evaluate demographic composition such as ages, gender, and spending behavior. Based on the analyzing report, you can follow it to founding a long term plan for your store(s).
Subscribe to Our Insight 😉
Stay up to date with the latest white paper, infographic, and our thought.
Stay up to date with the latest white paper, infographic, and our thought.