Mobile GIS Apps for Business
Advancements in the use of GIS for business surveys.
Today, mobile technology is bringing us to a higher level then we've ever had before. It's a huge revolution changing everything from the size of devices, battery endurance, finger touch operations, wireless internet connections, GPS, cameras and so on. As the role of a GIS user, what kinds of benefit will this revolution bring to us, and how will GIS play a role in it's impact?
Let's focus on business (intelligence). Fortunately, we have
GIS software
helping us to connect with our mobile device. There are several contributions: GIS support and data integration, efficient survey collection and management, smart micro computer technology integration, and real-time data management.
A favorite of mine: Efficient survey collection using a mobile device.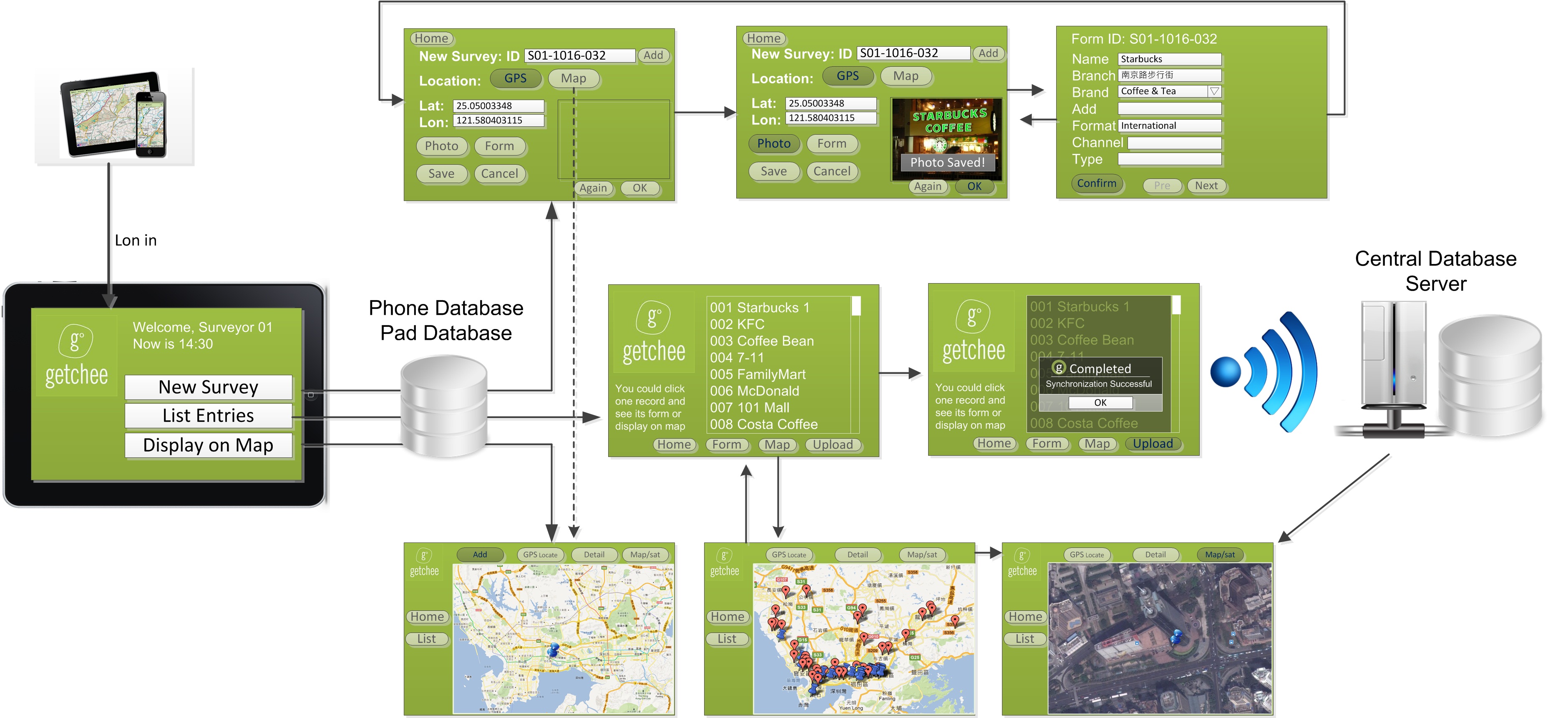 A surveyor no longer needs to spend time on paper forms and traditional survey methods. All that's needed is to install an application kit (apple.ipa or android.apk) into a mobile device. The surveyor can quickly access the system and submit quality field data with photos. Below is a workflow that describes how easy it is to collect data and save valuable time with regard to post-survey processing.
Moreover,
getchee
is able to provide customer satisfaction surveys through a mobile system for connecting with your customers to build your business. Customer satisfaction is key for the survival of any business. Finding out where customers are from, where they are currently located, what's most important to them, and whether their needs are being satisfied are the keys to developing a strategic expansion plan that puts new stores near the right customers.
Mobile devices are enriching and improve efficiency for the way we do surveys and collect data. With GIS support and data integration, we can say goodbye to the old paper surveys which tend to be the root of many headaches. It's true there can be a high price for high technology but the savings over time can help lead to business success.
| | |
| --- | --- |
| | By Johnny Lin |
Subscribe to Our Insight 😉
Stay up to date with the latest white paper, infographic, and our thought.
Stay up to date with the latest white paper, infographic, and our thought.