Our Thoughts
>
Top 10 Fashion Brands Expanding In China 2014
Top 10 Fashion Brands Expanding In China 2014
A guide including infographics, on the top fashion retail expanders in China for the first half of 2014.
The e-commerce boom is changing how retailers develop their global expansion plans. According to a brand research report from Linkshop.com.cn(联商网), we see the fastest growing international fast-fashion companies in China first half of 2014. Their networks have been gradually moving to 3-4 tier cities, such as Foshan(佛山), Xiangyang(襄阳), Wenling(温岭), Wuxi(无锡), Linyi(临沂), Weifang City(潍坊). It's a big challenge for local brand owners to keep up with these aggressive competitors.


1. UNIQLO (优衣库) Japan
UNIQLO dominates over the local markets, opening 32 stores within 6 months. Uniqlo even opened 8 new stores in a single day, in May. As of 6/30, UNIQLO has 289 stores in China.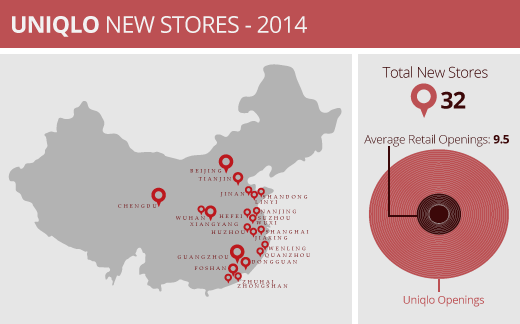 2. H&M Sweden
Sweden apparel brand, H&M, has opened 24 new stores so far. H&M plans to keep adding 4 new stores a month in average. So far, it has 209 stores.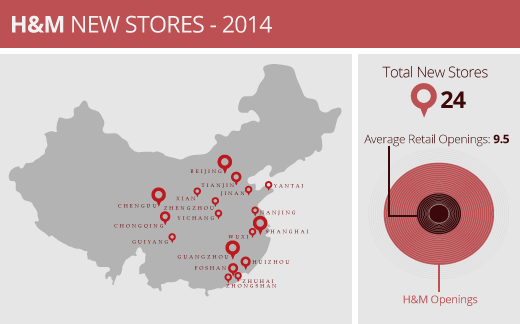 3. ZARA Spain
ZARA has only opened two news stores as of the end of June. ZARA is obviously slowing down its expansion plan. As of 6/30, it has 145 stores.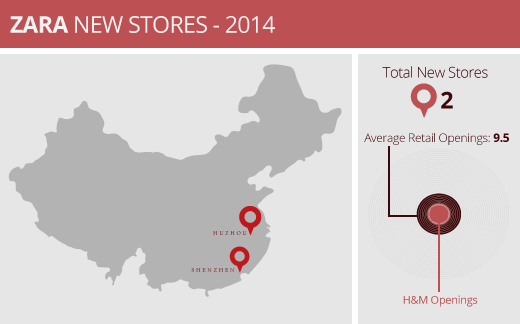 4. MUJI(无印良品) Japan
MUJI, selling a variety of household and consumer goods, has opened 8 stores in China so far. By the end of June, Muji has 108 stores in mainland China.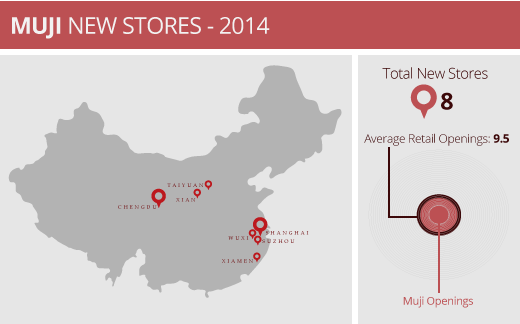 5. GAP USA
GAP has opened 4 new stores as of the end of April. It has 83 stores in total.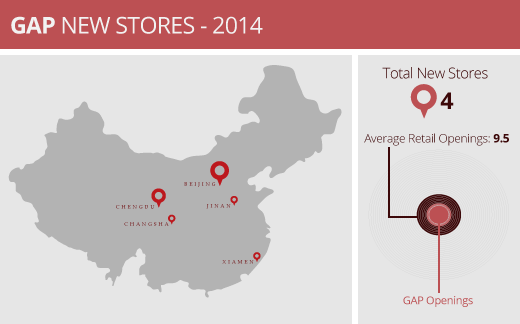 6. MANGO Spain
MANGO, a Spain clothing retail company, has opened 2 stores in China as of May 2014. As of 6/30, it has a total of 129 stores.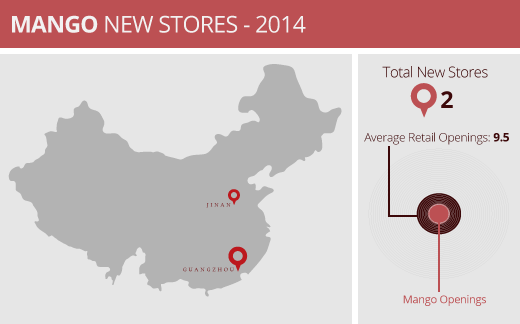 7. C&A Dutch
Dutch chain fashion retail clothing store, C&A, has opened 4 news stores this year, and has 61 stores in total.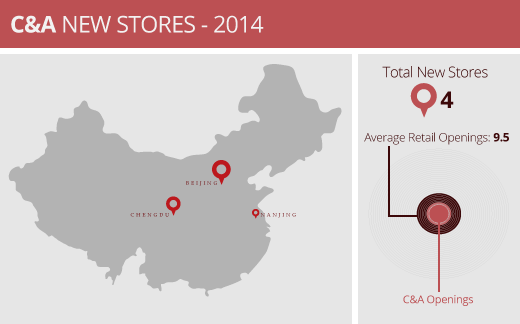 8. UR
UR has opened 6 new stores, with 37 stores total in China.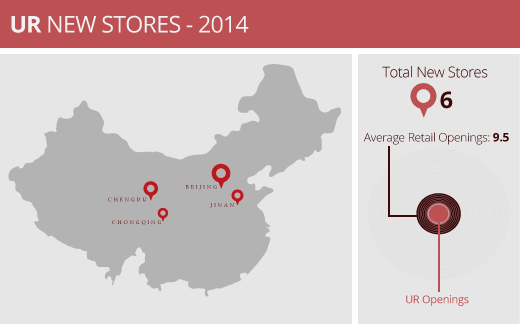 9. New Look UK
UK fast fashion brand, New look, just entered China this February. The market newcomer has already opened 12 stores within 5 months, showing its fast-growing, ambitious expansion strategy.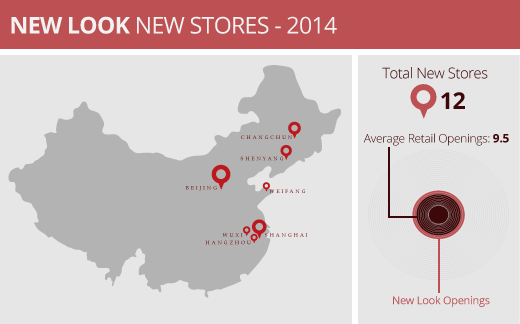 10. Forever 21 USA
Forever 21 has opened only one store in Wuhan as of May 2014. It has 4 stores total in mainland China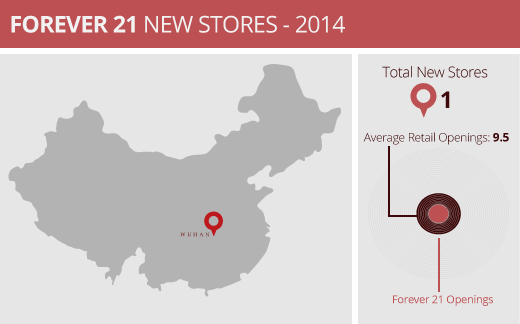 | | |
| --- | --- |
| | By April Wu |
Stay up to date with the latest white paper, infographic, and our thought.
Subscription Confirmation
To complete the subscription process we have sent you a confirmation email (be sure to check your junk mail folder if it doesn't appear in your inbox). Please click on the confirmation link to confirm your email address and you are all set.
Subscription failed
Sorry, we cannot accept any subscription now. Please try again later.